In the spring of 1993, Martha Stewart Living magazine published the recipe for a pansy shaped cake that was layers of baked meringue, angel food cake, whipped cream, and blackberries. The cake was frosted with Italian buttercream that was tinted and brushed to look like an actual pansy flower. The minute I saw that cake I knew I wanted to make it. Conveniently, Mother's Day was the perfect excuse for me to try despite the fact that I had never made any one component of this cake before, except maybe the whipping cream.
It was a cake that tested our families provincial palates – we're Americans with an addiction to too much sweet – but it is still talked about in my family and every so often I have the strong desire to make it again. After my mission, my next big baking project was the Mr.'s birthday in our first year of marriage. I thought I was very clever to combine the Mr.'s favorite flavors of chocolate and raspberry in his cake. I rarely make cakes for the Mr. and the kids birthdays anymore – I just don't have the energy!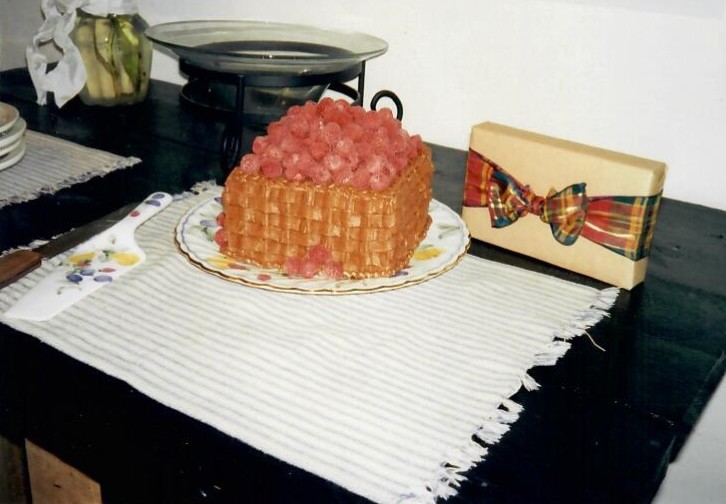 But for his birthday this last Sunday, I again returned to his favorite flavors and made him a dark chocolate cake (using both the Barefoot Contessa's recipe and Magnolia Bakery's recipe – I couldn't decide, so I made them both and layered the results!) and raspberry Italian buttercream for the frosting. I was inspired by The Mighty Baker here in Provo and the result was amazing!
The pairing of raspberry buttercream and dark chocolate was pretty darn good. There was no way I was going to throw out the little bit of frosting that was leftover from the cake, so I made my favorite chocolate cut-out cookies and frosted them with the buttercream. Wow. I didn't have enough frosting to frost the whole batch of cookies – so more buttercream was made!
For the raspberry Italian buttercream, I added 2 oz fresh, pureed raspberries (that was pressed through a sieve to remove the seeds) to 1-1/2 cups of buttercream. Use a hand mixer to whip the raspberry puree into the prepared buttercream completely.
For the lemon Italian buttercream, I added 2 Tbsp lemon curd to 1-1/2 cups of buttercream. Use a hand mixer to whip the lemon curd into the prepared buttercream completely.
Cookies should be eaten at room temperature.